Picky-Pics Help
Picky-Pics is an online designing tool which enables you to design from business cards to posters with professional qualities. Various types of materials such as photos, illustrations, texts, shapes and charts are available in the one place, Picky-Pics Library. So just search and find your favorite materials in the Library and drag it onto the canvas, then change the dimension, color or position. That's all you need to do and you will get a professional-looking design. Your design can be exported with PDF and PNG formats and even it can be shared on the Web with your friends!
Using free materials in the Picky-Pics Library or uploading and using your own images in Picky-Pics is free of charge. It is not charged to store your designs in the server as well.
If you want to design further using paid materials in the Picky-Pics Library and publish it, you need to purchase either 24 Hour Output Rights (100 JPY per material) or Permanent Output Rights (1,000 JPY for illustration, 1,500 for photo). After the purchase, you can publish those materials with watermarks removed.
The 24 Hour Output Rights is that you're allowed to publish your design with paid materials within 24 hours in PDF, PNG and Web formats. Once you purchase it, you can publish your design as many times as you like within 24 hours with those watermarks removed. After 24 hours, if you'd like to publish the design again, you will have to purchase the rights.
The Permanent Output Rights is that you're allowed to publish your design with paid materials permanently within Picky-Pics. For illustrations, it costs 1,000 JPY each and for photos, it cost 1,500 JPY each.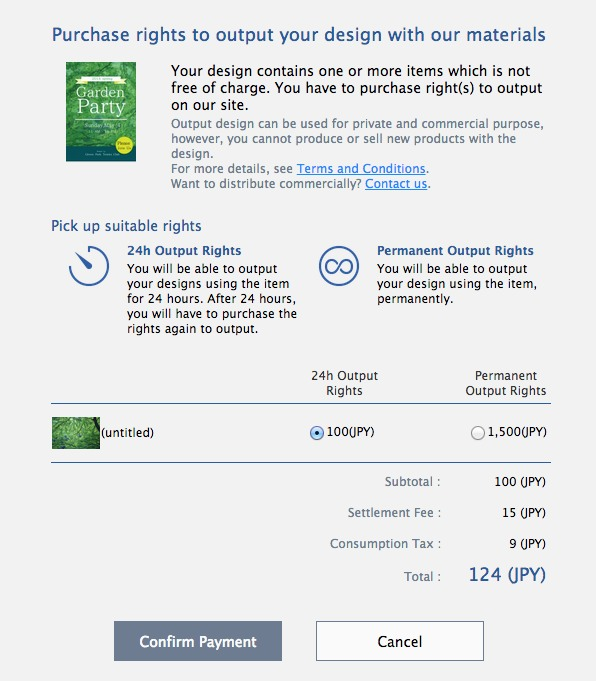 You can see a sign at lower right corner of each material. The Paid sign indicates it's paid, and the price is from 100 JPY to 1,500 JPY, depending on the Output Rights you choose for. The Free sign indicates it's free obviously. If you use a paid material in your design, you'll notice that a watermark appears over the material. The watermark will be removed when you pay and publish your design.
Paid Material
Free Material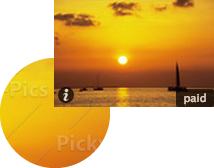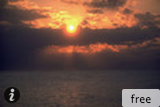 Paid materials
come with
watermarks
You can pay with PayPal. PayPal is world's largest online payment network, serving over 20 million members in 38 countries. You can use it in Picky-Pics easily, seamlessly and securely.
The materials available in Picky-Pics are protected by copyright law. You can use those printed materials for personal use purpose and commercial use purpose under the limited condition. For the details, please read our Terms and Conditions.
If you want to use our materials in a way which is prohibited in the Terms and Conditions, please contact us.
Picky-Pics' system requirement is as follows.
Screen Size:
1024 (px) x 768 (px) screen resolution or greater is required.
Browser:
We've been testing Picky-Pics with the latest version of the following Browsers.

Sleipnir (Windows/Mac)
Microsoft Edge (Windows/macOS/iOS/Android)
Google Chrome (Windows/macOS/iOS/Android)
Firefox (Windows/macOS/iOS/Android)
Safari (macOS/iOS)


These Browsers are not tested.

Old version of the Browers above.